About Wedding Limousine Rental Montreal
Firstly, please allow us to offer you our congratulations on your forthcoming Wedding.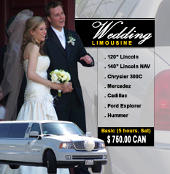 Our Company prides itself on the quality of service, and competitive prices, that we provide to you, our valued customers.
Our service is tailored to your express needs, and is second to none. We will collect you from your home or hotel, and ensure that you arrive in plenty of time for your service, following which we will drive you to your required destination.

Since the wedding limo business is so busy, we do recommend that you book early to avoid disappointment.
Whatever your requirements, we would be pleased to discuss them with you.
Please let us help make your wedding a memorable one!
Once upon a time and still today, Montreal Limo has been turning fairytale weddings into reality with our stunning fleet of limousines and our exceptional personalized service. We understand how important your wedding day is to you. From choosing the right car to rolling out the red carpet, at Montreal Limousine we take care of all the magical touches. We look forward to taking part in your special day!
All of our wedding packages include a just married sign in the color of your choice, bow and ribbon for the car, red carpet service and a chauffeur dressed for the occasion with white gloves and a top hat!
All our chauffeurs are full time employees; this is not a part time job but their chosen profession. So you may rest assured that your every need will be accommodated.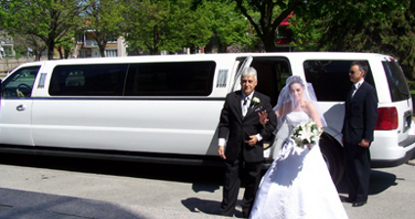 At Montreal Limo we pride ourselves on our professionalism and like the company itself our staff is driven to succeed.
This commitment starts at point of pick up. Our vehicle will not arrive a minute late there!

Our Wedding packages

All of our wedding packages include

5 hours of exceptional limousine service
Bow and ribbon for the car
Red Carpet Service
Complimentary Bottle of Sparkling Champagne
The latest fully equipped SUV or Stretch Limousines
TVs, DVD, changing color fiber optics, stargazer/mirror ceilings

All stretch limousines: $600 for 5 hours
Antiques and Exotic limousines: $500 for 5 hours
SUV Limo Van: $475 for 5 hours
Sedans: $375 for 5 hours
18-passenger Limo Bus: $975 for 5 hours



*Extended limousine time is available, please call us for details (514) 875-5466